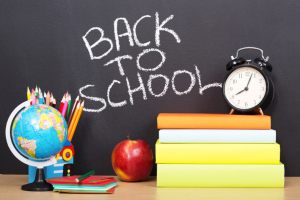 Transitioning your family from the fun of long summer days back into a set school year schedule can be tricky. Things like sleep times have become more relaxed during your summer fun, meal times may have lost some structure and calendars in general have become less organized. Here are some tips to help you ease back into the school year and make preparing for back to school a little easier.
Start With Sleep
The first day of school is no time to change your children's sleep schedule. Begin to adjust their sleep schedules gradually, starting about two weeks before school starts. Introducing the scheduled school year bedtime slowly will help make the first weeks back less hectic. Also, try to wake up your late sleepers earlier and earlier, closer to the hour they'll need to rise when school begins so those first mornings are less of a shock to their system.
Calm Morning Chaos
Each evening before you go to bed, think of what you will need to have done by the following morning or where would you be able to lighten the load. For example, when you clear the evening dishes, set the breakfast table and make sure that breakfast foods are within easy reach. Lay out your children's clothing the night before. Look through backpacks for missing homework, school projects and library books. Also, check for all the important papers such as medical forms or permission slips that the teacher will send home but may have gone unnoticed. If your child plays sports, make sure that equipment is ready to go the night before. The same for any musical instruments your child may play. If your planning to send your kids with packed lunches, gather everything you need together for the morning or even pack them up the night before.
Make Meals Easier
Don't forget about mealtimes which more than likely have become less structured over the summer months. Meal routines can sometimes be hard to adapt to, especially for younger children. Plan meals so that your younger children become accustomed to the rituals of the school day before the school year begins. Getting everyone into the same habit beforehand will help to make the rest of the daily school year schedule less of a struggle.
Strategize Supplies
Shopping for school clothing can also be a daunting task. Go through and empty closets and drawers of clothing that your children have outgrown and donate them to your favorite local charity. This will help another family while giving you more space to store the new clothing you will be purchasing. Have your children help with the cleaning and organizing process. This way you will be less likely to hear, "Mom where are my…".
Some schools will give you a list of supplies needed for the school year. If not, contact the school to see if they have a list of the items that will be needed. Depending on what grade your child is going into, here are some standard supplies that may be needed:
A backpack with comfortable shoulder straps and multiple pockets
A pair of scissors, safety scissors if they're for a younger child
A sturdy binder, filled with lined paper and subject dividers
Pens, pencils, highlighters, erasers, white out
Spiral-bound notebooks
A small bottle of hand sanitizer
A portable USB drive for saving computer work
Do a Practice Run
The first day of school is most likely going to be hectic. Instead of waiting until the big day, try to do as much as you can beforehand. Don't wait to find out how long it takes to walk to the bus stop, go over the route ahead of time and decide what may be the best route to take. For younger children especially, it may be a good idea to print out the bus schedule and post it where it can be easily seen. This may prevent a missed bus. Pack up back packs with all the new supplies ahead of time to prevent scrambling on the first morning. Think about packed lunches and breakfast menus so there's no arguing at the last minute.
Starting a new school year is an exciting time filled with opportunity. The stress of changing schedules can easily take its toll, so it's important to prepare so you aren't taking away from the fun. We've given you a few tips on how to get ready, but if you'd like to learn more or for help with any of your other work-life challenges, log in today.